Version:
2.75
Program Type:
Shareware
Release date:
2006-01-08
Save hours when building an managing email lists. Juggler is loaded with tools for splitting, and merging lists, plus a spell-checker and various mailing options.
Publishers Description:

Email Address Juggler is a great program for sorting-out large numbers of email addresses. It's perfect for keeping your friends, customers or club members up to date. It has plenty of time-saving tools for loading, splitting and merging lists. If somebody decides they want out from a list, add them to the removals list to make sure that you don't bother them again. When you've got your list ready, use the built-in international spell-checker to check your message and then send it out with a click of the mouse.

IMPORTANT: This is not spamming software. Juggler must never be used for sending offensive messages or unsolicited promotional material. The program contains features to help combat spammers!



Keywords: Juggler,email,list,mailing list,manage,sort,extract,remove,split,spell check

More on Email Address Juggler



This is the primary download URL given by the publisher of Email Address Juggler




1 Cool File periodically updates the software information and pricing of Email Address Juggler from the publisher thus some information might not be up-of-date. You should confirm all information before relying on it. Software piracy is theft, Using Email Address Juggler password, crack, registration codes, serial numbers, key generators is illegal and will prevent future development of Email Address Juggler.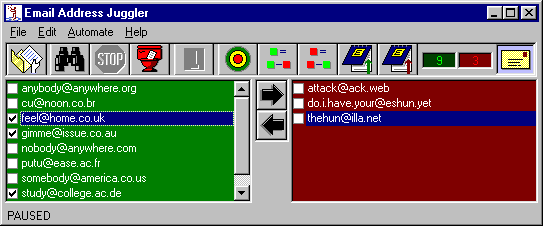 Category: e-mail