Version:
1.4
Program Type:
Shareware
Release date:
2000-12-11
MailAssistant is an innovative software that notifies you of incoming e-mail messages and reads your e-mail messages as they arrive. This special Christmas Edition of MailAssistant includes cool greeting messages from an animated Santa character.
Publishers Description:

MailAssistant (Christmas Edition) is an innovative email notification sofware that
reads out email messages aloud and notifies you of new messages
as they arrive using an animated Santa character. You can quickly preview the sender's address,
subject, size and contents of each message and optionally save or
delete the messages before downloading from your email accounts.
MailAssistant is a desktop enhancement tool that can read any text file, webpages, documents and
clipboard with natural-sounding, understandable voice.
MailAssistant can be scheduled to check your email account at any time interval you like.
Runs in system tray, can check any number of email accounts and supports proxy server.
Once Christmas is over, you can continue to use MailAssistant with a host of other characters, including Merlin, Genie, Peedy, Bill, Dog etc. Seperate versions are available for British English, Dutch, French, German, Italian, Russian, Spanish, Portuguese (Brazilian), Japanese and Korean languages.



Keywords: talking email, speaking email notifier, desktop enchancement, multimedia email, christmas gift, santa read emails, text to speech, talking mail, email notification, sound, animation, email to voice, text to voice, email2voice, text2speech, desktop

More on MailAssistant (Christmas Edition)



This is the primary download URL given by the publisher of MailAssistant (Christmas Edition)




1 Cool File periodically updates the software information and pricing of MailAssistant (Christmas Edition) from the publisher thus some information might not be up-of-date. You should confirm all information before relying on it. Software piracy is theft, Using MailAssistant (Christmas Edition) password, crack, registration codes, serial numbers, key generators is illegal and will prevent future development of MailAssistant (Christmas Edition).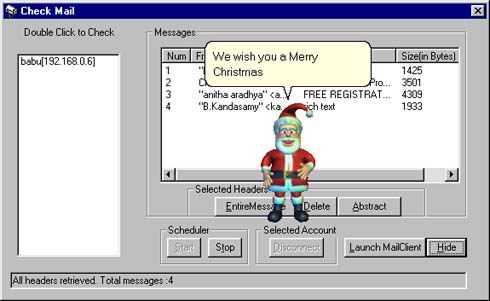 Category: Email Notification